CASE STUDY
Vacuum Egg Packaging Machine
The Dabaco Group is a multi-industry group that focuses mostly on food processing, animal feed, and raising livestock and poultry. We provided them with specialized automatic egg vacuum packing machinery for one of their projects. And with a remarkable experience using our machine, we've put a smile on our Vietnam customer.
Overview
As one of our major business partners, the Dabaco group can using one of the best machines in the world. Echomachinery provided them with automatic egg vacuum packaging machinery that was super effective for one of their projects. The project yielded so many great results that made our Vietnam customer the first egg vacuum farm and sideline food factory.
Dabaco is delighted to be the leading supplier of animal feed in Vietnam and one of the top ten animal production enterprises in the country. Dabaco has 6 feed mills with a cumulative capacity of 85 tons/h.
The MRZK-120/100 machine with shrink cup feeder we provided met all the requirements and totally solved the problems of our customer. The vacuum chamber is equipped with transparent true empty shell cover, which can better check the state of the vacuum chamber. It also has automatic control of a series of processes from loading, filling, packaging, vacuum, sealing, and finished products and most filling machines can be combined with this machine.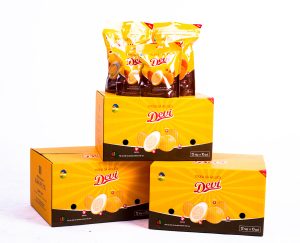 The machine has high performance and high durability. The feeding turntable rotates intermittently to fill the product easily, the vacuum turntable also rotates continuously to enable smooth running. The main part of the machine is made of stainless steel, which can ensure the durability of the machine and the hygiene of the production line. The filling area and vacuum chamber can be cleaned with water, and it meets the requirements of food production safety.
With a first trial on our MRZK 120+ Manual Cup Filler, our Vietnam customer experienced a speed of 30-40 bags per min.They then wanted to scale up production and demanded higher speeds. We recommend MRZK100+ contraction cup filler solution, they experienced a speed of 80-90 bags per min. This way, their supply could meet demand because there was a drastic increase in production.
Our skilled design team and technical staff enable us to virtually always meet customer requirements. Today, using our innovative technology, about 50,000 eggs are vacuum-packed and sold daily by Damaco across Vietnam.