DXD Series
Horizontal Form Fill & Seal Machine
Capacity
Up To
290 BPM
Bag Height
35 – 250mm
1.4 – 9.9in
Bag Width
60 – 450mm
2.4 – 17.7in
Bag Length
20 – 120mm
0.8 – 4.7in
---
Horizontal Form Fill & Seal Machine(HFFS) is suitable for pillow-type packaging of big products. Such as quick-frozen food with trays, biscuits, hamburgers, instant noodles, articles for daily use, drug sundries, and so on.
It is a heat-sealing pillow with double frequency, automatic high-speed package machine for the biscuit, the chocolate, instant noodle, the drug and so on other goods, After the package, these goods are of beautiful appearance, strong sealing, health, and long storage.
Features
Parameter
Pillow Type Packaging Machine
Square, Rectangle, Circular, Ellipse, and Flake, etc.
DXD-660
DXD-420
DXD-300
Max Capacity
600 bags/min
300 bags/min
260 bags/min
Max Width of Film
400mm
15.7in
300mm
11.8in
300mm
11.8in
Max Dia of Film
350mm
13.8in
350mm
13.8in
350mm
13.8in
Bag Length
55 – 200mm
2.2 – 7.9in
60 – 400mm
2.4 – 15.7in
90 – 450mm
3.5 – 17.7in
Bag Width
25 – 100mm
1 – 3.9in
35 – 100mm
1.4 – 4in
40 – 140mm
1.6 – 5.5in
Bag Height
< 70mm
< 2.8in
< 60mm
< 2.4in
< 80mm
< 3.1in
Dimension
5600 * 1000 * 1700mm
4300 * 850 * 1550mm
4300 * 1000 * 1550mm
Total Power
380V 50Hz 5.5kW
220V 50Hz 3kW
220V 50Hz 3kW
Candy Packaging Machine
Candies, Lollipops, and Similar Products.
DXD-1600
DXD-1200
Max Capacity
1600 pcs/min
1200 pcs/min
Bag Length
50 – 150mm
2 – 5.9in
50 – 80mm
2 – 3.1in
Packing Length
12 – 50mm
0.5 – 2in
12 – 40mm
0.5 – 1.6in
Packing Width
12 – 30mm
0.5 – 1.2in
12 – 30mm
0.5 – 1.2in
Packing Height
5 – 18mm
0.2 – 0.7in
5 – 18mm
0.2 – 0.7in
Dimension
3700 * 1650 * 1700mm
2500 * 1350 * 1720MM
Total Power
380V 50Hz 6kW
220V 50Hz 4kW
Capacity & Filling Volume depends on the product status and filling weight.

Our machines can be equipped with different cutters and chains to suit different sizes of packaging. Depending on your material and packaging requirements, we will complete the configuration for you before shipment.
Industries & Solution
IQF food with tray, Biscuits, Hamburger, Instant noodles, Articles for daily use, Drug sundries and So on.
Working Principle
Complete Operational Principle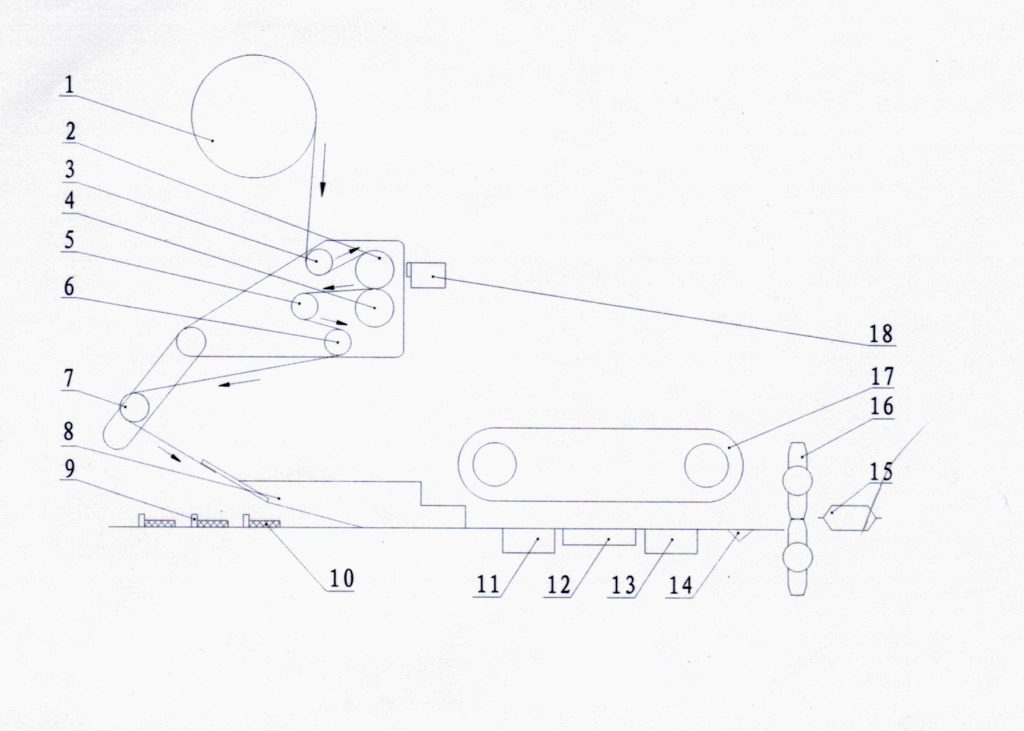 Put package 10 into the pushing chain track 9, entering into shaper 8. With the transmission of the feeding paper parts 1, 2, 3, 4, 5, 6, 7, the package paper is sent continuously and accurately into shaper 8. The package paper crosses the package material in the shaper through the act of shaper, making the package material in the shaper through the act of shaper, making the package paper pack on the article, and while the sending wheel 11 with brush 17 forward sends material, after being heated by heating copper 13 to make the vertical sealing complete. They continue going on forward through guide block 14, enter into the horizontal sealing cutter 16 to cut off the horizontal sealing, then finished go our product 15.
Shaper
Feeding Parts
The dynamic of transmission system is driven through several transmission units to rubber roller through the double chain wheel, and finally complete feeding paper.
Heat-Sealing Parts
Feeding wheel catches piping package material carried carried out by the shaper. And they are sent to vertical sealing roll wheel to finish its vertical hot mixing after being heated by heating copper and the hair brushes, vertical sealing hemming-stitch pressure flat. The horizontal sealing scissors turn to the vertical heat mixed package materials that have been heated from a cross sealing through horizontal sealing head and vertical sealing line. Then they are cut off at the same time through the relative motion of cutting tools and hammer anvil to send out from the terminal.