---
Custom Options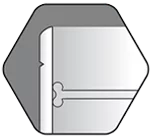 POCKET ZIPPER
With the puller, easy-open the bag.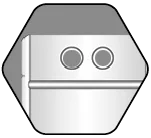 DIE-CUT TOP HANDLE
Make product transporting easy and convenient.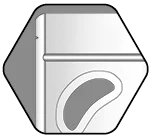 DIE-CUT CORNER HANDLE
Offers a convenient solution for transporting and dispensing products.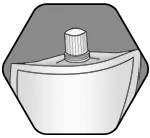 SPOUTS & FITMENTS
Allows for easy and convenient dispensing of liquid or dry products.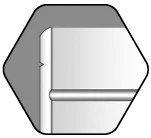 PRESS TO CLOSE ZIPPER
Reusable PTC zipper and easy open tear notches.
Easy Peel – Temperature Sensitive Film
Nowadays, a convenient consumer experience is very important.
It is a challenge to the packaging industry for some products which need 2 different materials to mixed together for the best taste but should be packed separated before consumers have it.
Our temperature-sensitive film makes it be possible. It can be positioned easy-peel through pressure and sealing temperature adjustment. 2 different materials can be packed into 2 different chambers in just one bag and easily mixed by peeling the compartment seal in the middle.
We are expert in the manufacturing of this double chamber bag from raw material with its own patented PE formula. It is widely used in coffee packaging gusset bags as well to avoid coffee falling out by improper tearing. With the easy peel film, the top of the bag can be easily opened without coffee falling out risks.
One bag one code
The traceability of some products like medical devices, drugs, agriculture seeds, etc. is enforced. Nowadays, people pay more and more attention to food safety. It requires production, transportation, sales, etc. Channels should be traceable for food. The traceability can only be achieved by the packaging with one bag one code.
Besides traceability, anti-counterfeiting and promotion with redemption code inside can be achieved with one bag one code.
We are expert in ONE BGA ONE CODE for both inside and outside. It can be achieved in multiple processes online from printing, slitting, and bag making to meet clients' different requirements for the ONE BAG ONE CODE.
Anti-bacteria Packaging
Our anti-bacteria packaging material achieves 99.9% surface anti-bacterial and 99.99% inner side anti-bacterial against Escherichia coli, Staphylococcus aureus, Streptococcus Albicans by adjusting the material formula. All material used passed the SGS Oral Toxicity test and Biological Safety test according to FDA regulations to guarantee food safety.
It can be widely used in personal care products especially baby use products and food.
Escherichia coli, Staphylococcus aureus, Streptococcus Albicans, and so on pathogenic Bacteria will destroy the normal flora of the human body, slightly cause diarrhea, and severely cause decreased immunity and impaired liver function.
Because of the COVID-19 pandemic, everyone cares more about viruses and Pathogenic bacteria. Prevention takes precedence over treatment. Effectively against bacteria starts from packaging.
Microwavable packaging
Normally the packaging should be open for air escaping during microwave heating.
Through a special production process, Our microwavable packaging material no need to be opened when microwave heated, so to guarantee hygienic and food safe especially for carry-out food which needs to be microwave heat before taken out.
Easy Tear Material
For convenient consumer experience for some products like facial masks, nutrition powder especially for kids and the elderly, functional drugs for emergency use, and so on products, easy tear is necessary.
We has broad experience in the easy tear packaging material in multiple structures like PET/Al/PE, PET/AL/PA/PE, PET/AL/PET/PE, etc.
Foil Stamping Process
Foil Stamping is the process of thermal transfer via anodized aluminum for the highlight positioned special colors which are unable to be achieved in rotogravure or flexo printing to attract consumers' attention on the shelf.
Embossing packaging
The embossing packaging is to present concave-convex visual and tactile effects for the logo and key points of the packaging to make your products stand out on the shelf and attract consumers' attention.
De-metallised Packaging
We are offering De-metallised packaging to meet the client's packaging requirements with a metalized finish for high barrier and great appearance, and the positioned clear visible window at the same time.
High Quality
The product quality is strictly controlled during every process from raw material to finished product. Strictly following GMI color management systems during printing, the colors are guaranteed consistency.
The plant is ISO 9001:2015, ISO 14001:2015, ISO22000:2018, BRC, BSCI, GMI certified.
To guarantee high quality and food safety, the below items are strictly tested in the in-house laboratory:
Packaging Machine
As a professional packaging machine manufacturer, we believe that we can choose the best packaging solution for you. If you choose Spout Pouch, then we recommend that you use the following machines for packaging:
MR SERIES
PREMADE POUCH PACKAGING MACHINE
Beautifully Package
Up to 80 Bags/Min
Premade Pouch Packaging Machine can pack most products with a fast speed. Choosing suitable prefabricated bags can greatly improve the appearance and ease of use for consumers.
Learn More
Want to purchase a packaging machine? Welcome to view our Packaging Machine.
Hesitating between Premade Pouch and Rollstock? Read our guide —— Premade Pouch Packing Machine VS Form Fill Seal Machine, Which one should you choose?
Want to learn more about the advantages and disadvantages of bag types? Read our guide —— 22 Types of Premade Pouch, Choose the Best