Circular Cup Filler
| | |
| --- | --- |
| Cup Outer diameter | Φ65 – 150mm |
| Cup Inner diameter | Φ46 – 125mm |
| Cup Number | 32 -59 |
---
Circular Cup Filler is a semi-automatic feeding device for large pieces of product. The inserted product will rotate to a designated position and then be poke into the bag.
The product is put into the measuring cup manually, and the servo motor drives the groove wheel to rotate. The measuring cup moves along with the groove wheel on the feeding platform to complete the product conveying action.
Feeding component: servo motor drives the synchronous belt to make the head of the measuring cup move down and push the product in the measuring cup into the packing bag.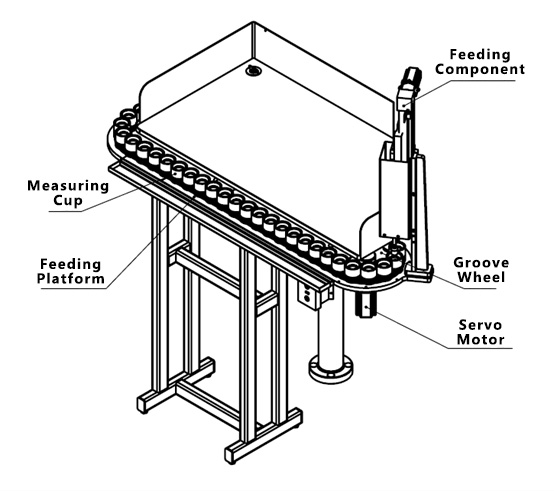 | | Cup Outer diameter | Cup Inner diameter | Cup Number |
| --- | --- | --- | --- |
| CF65-1600A | Φ65mm | Φ46mm | 49 |
| CF65-1950 | Φ65mm | Φ46mm | 59 |
| CF65-1650 | Φ65mm | Φ46mm | 49 |
| CF86-1700 | Φ86mm | Φ60mm | 38 |
| CF120-1900 | Φ120mm | Φ95mm | 32 |
| CF150-2200 | Φ150mm | Φ125mm | 34 |