AC-6B10/14
Multi Head Weigher AC Series
| | |
| --- | --- |
| Weighing Range | 25 – 500g |
| Accuracy | X(0.5) Grade |
| Max. Speed | 80 – 140bags/min |
---
Fearures
Model & Parameters
| | AC-6B14 | AC-6B10 |
| --- | --- | --- |
| Rated Voltage | ac220v | ac220v |
| Rated Frequency | 50 / 60hz | 50 / 60hz |
| Rated Current | 9a | 8a |
| Input Power | 2.0kw | 1.5kw |
| Bucket Number | 14 | 10 |
| Weighing Range | 25 – 500g | 25 – 500g |
| Accuracy | X(0.5) Grade | X(0.5) Grade |
| Capacity | 500ml / 1300ml / 2500ml | 800ml / 1300ml / 2500ml |
| Max. Speed | 140bags/min | 80bags/min |
| Pro-memory | 0 – 99 | 0 – 99 |
Machine Structure
The main components of AC-6B 14(10)-2C, series are shown in Fig: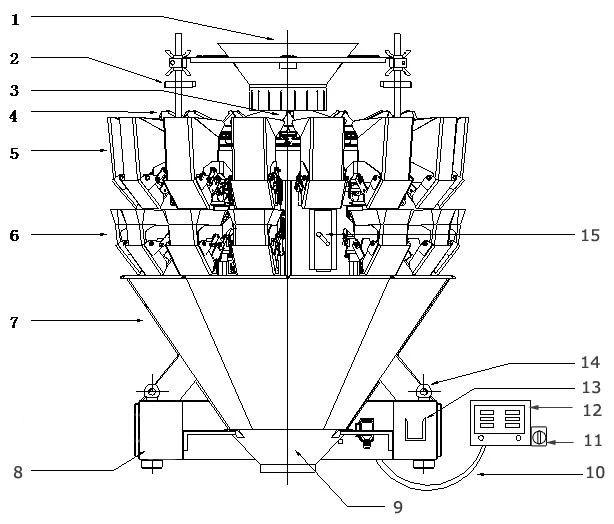 | | | | |
| --- | --- | --- | --- |
| 1: Infeed Funnel | 2: Level Sensor | 3: Top Cone | 4: Linear Feeder Pan |
| 5: Feed Bucket | 6: Weigh Bucket | 7: Collating Chute | 8: Hang Bolt |
| 9: Main Breaker | 10: Creapage ON-OFF | 11: Base Frame | 12: Collating Funnel |
| 13: Wire For Display | 14: Display | 15: Aluminum Case | 16: Linear feeder |
| 17: Main Feeder | | | |
Packing Size & Weight:
Assembly Dimension: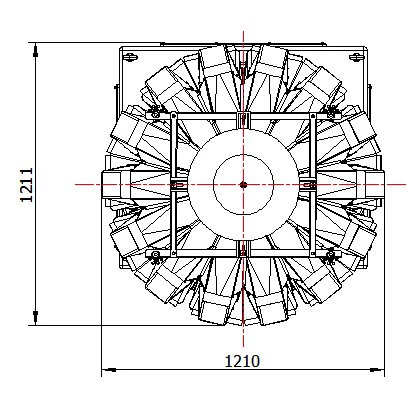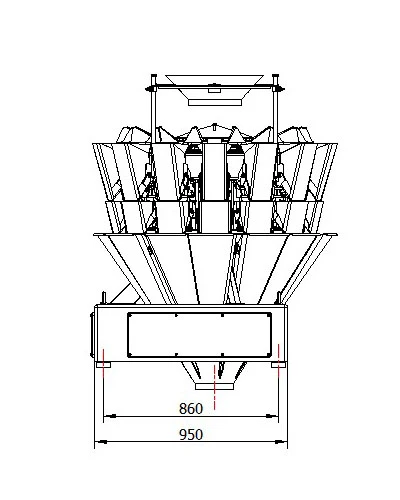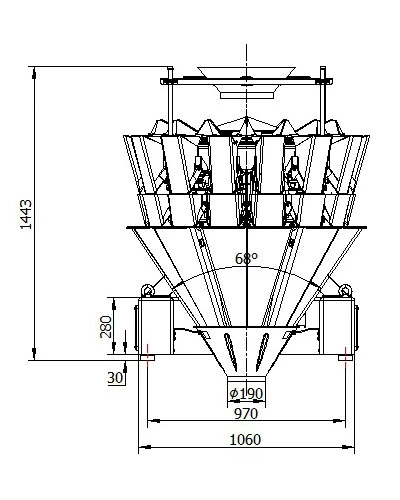 Working Principle
Products to be weighed are firstly delivered by Conveyor and fed into the Infeed Funnel. Then it can be dispersed to Linear Feeder Pans from the vibrating Top Cone controlled by program. The products flow thickness can be changed by adjusting the height of the Infeed Funnel. Products to be weighed are distributed evenly into each Linear Feeder Pan, stored in Feed Bucket. When Weigh Buckets complete the previous weighing and after they are cleaned out, products to be weighed in Feed Buckets can be fed into Weigh Buckets to prepare for next combination. Meanwhile this machine can work with other equipments like packaging machines or conveyor by signal communication, The work flow is shown in Fig.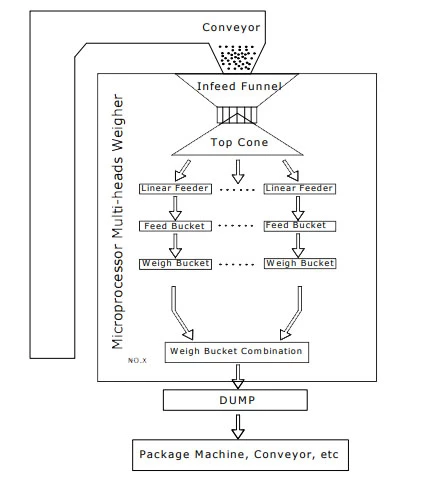 The CPU calculates the weight value from each Weigh Bucket , adds up the single weight and gets numerous combinations which meet the set deviation from Target Weight, then selects the closest one to the Target Weight as shown in Fig.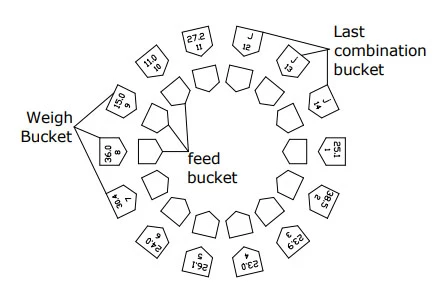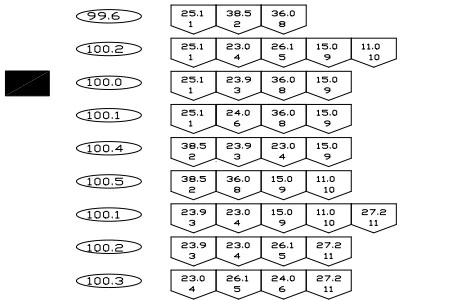 Working Environment
Temperature: -5 – 400℃
Humidity: 35 – 85%
Electrical power: AC 208V – 240V 50/60Hz
Installation environment: On a hard, horizontal and non-oscillation surface.
Grounding: Make sure the grounding terminal is grounded.
Jamming source: Keep away or shield off.
Should work in axenic and non-dusty workshop when packing food products.
Avoid working in the surrounding with causticity gassy.
Forbid to touch the screen with nipping tools.
Attention
Don't strike or push a large pressure on weigh buckets.
Do check and clean out the remaining material inside buckets before running. Press ZERO button to empty buckets and set to zero before operation.
Do switch off the power supply when maintaining and cleaning.
Do switch off the power supply when there is a malfunction in electronic parts. It should be maintained by an electronic-engineer.
Make sure that the machine is fastened and stable when cleaning, maintaining and operating the machine, because there is still a certain distance from the machine body to the ground if the weigher is installed on the top of the packing machine.
The volts d.c. should be less than 30V of the connection signal which produced by other equipments connecting with the weigher such as feeding apparatus, Packing machine, conveyor, etc. And the load current should be not more than 100mA.
Don't touch the buckets' door, weight buckets and other running parts while the machine is running.