We made a simple video to introduce our company's new factory.
Originally, we prepared more content, but due to space limitations, we only used part of it, but we will provide you with the untrimmed part as a text draft for your reference:
Hello, welcome to our ECHO Company, Come with me on a tour of our factory today. I am now in the location of our brand new plant which is building and working in January 2022, with a total area of 98,000 square meters. Our company was founded in 2000, located in the center of the private economic zone of Ruian City, Zhejiang Province, the company to produce automatic bag packaging machine, is one of the most large-scale packaging machine enterprises in China!
Today we take you to learn how we make packaging machine into the industry leading, become the domestic leader.
Our factory has a total of eight floors, the first floor is our processing center, the second floor is the warehouse, the third floor is our assembly workshop, the fourth floor is our debugging workshop, the fifth floor is the exhibition hall, is still under renovation, the sixth floor is our office area.
First Floor
The first floor is dominated by a processing center, a reception hall, and a packing and delivery area.
Reception Hall
In front of the door is our exhibition hall, which mainly displays our products and accessories independently developed and patented by us. There is also a large exhibition hall, which shows the historical and cultural progress of our company. It is still under renovation, and you are welcome to visit our company after the epidemic.
Machining Center
Let go this way, Now we enter our processing workshop on the first floor. You can hear the loud noise caused by machines operation.
The total investment of processing equipment on this floor alone is more than 6.3 million USD! It can be said that our machining is one of the best in the rotary bag machine equipment, and it is also one of the largest parts processing bases in southern Zhejiang!
You can hardly find anything like us in the Chinese market. Nearly 90% parts of the whole machine are produced by independent research and development, which is extremely rare in the packaging machine industry throughout the country. We don't need to wait for logistics to process our own parts, which makes it more convenient for us to develop and trial-produce new models.
Only for our the processing center on the first floor has about 200 employees.
Our processing center has:
21 sets machining centers
64 sets wire cutting
32 sets CNC lathes
10 sets drilling centers
Gantry machining processing center has 4 sets. Gantry machining processing Center is from Taiwan, which can make the chassis one-time welding forming, after heat treatment processing to reduce the error to the minimum, Which makes our machines more stable and faster.
You will find that all our accessories have their own numbers on them, which makes our after-sales service more convenient. Not only the delivery cycle is fast, but also the quality is guaranteed. Currently affected by the Covid-19, if do not have such a large processing center of our own, many accessories need external processing, then the stability of the machine and the delivery date will be seriously affected, that is our delivery date can be met as soon as possible, the delivery time for standard model machine is 20 days.
Here is our Packing and delivery area, before shipping from our factory, the equipment will never be exposed to bad environment. Our this channel is enough for 4-5 containers to be loaded at the same time.
Second floor: Warehouse
Out of the elevator you could see here is full of goods. In our hand there are vacuum tube, the front are steel wire pipe and soft tube, the soft tube is used to discharge waste water when commissioning equipment.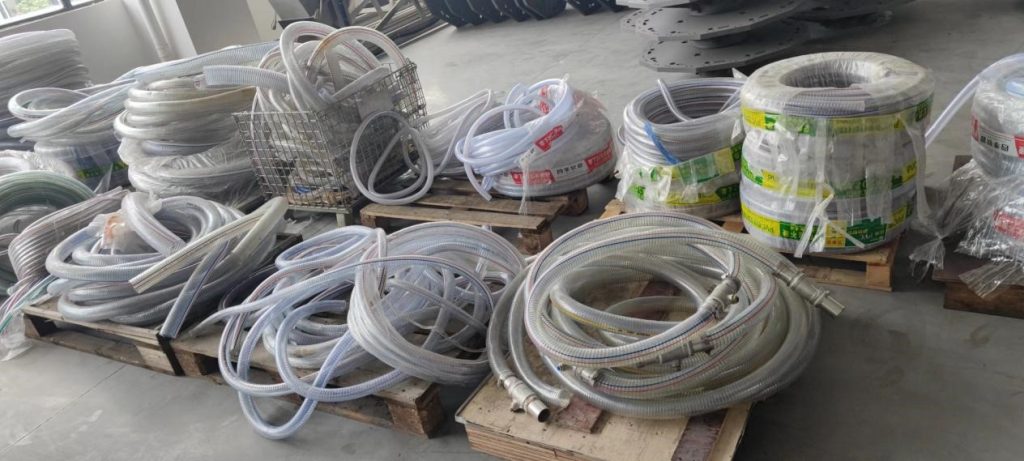 Then is the main component on our equipment-turntable, it can be seen that we store is very large, even if the customer orders dozens of sets, also can quickly delivery.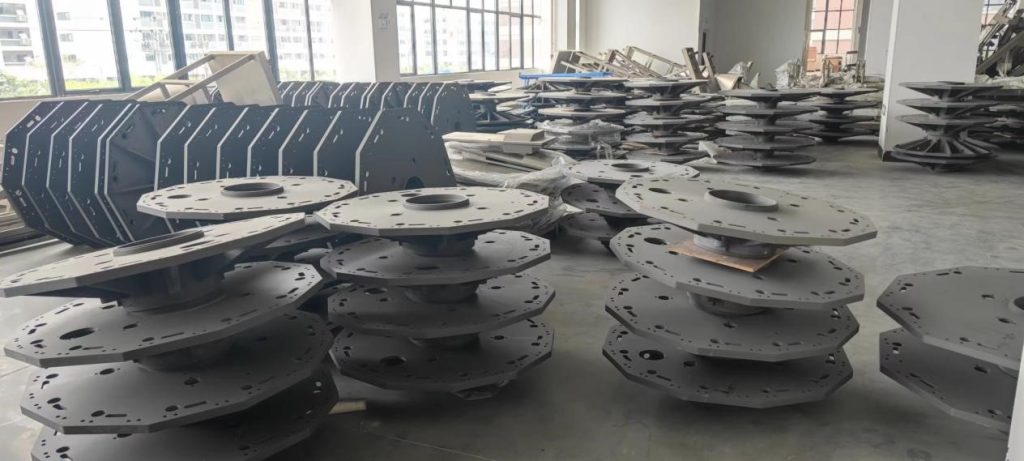 There are measuring cups, they are customized according to the customer's products, different specifications. Make the packaging more individual, professional, more targeted.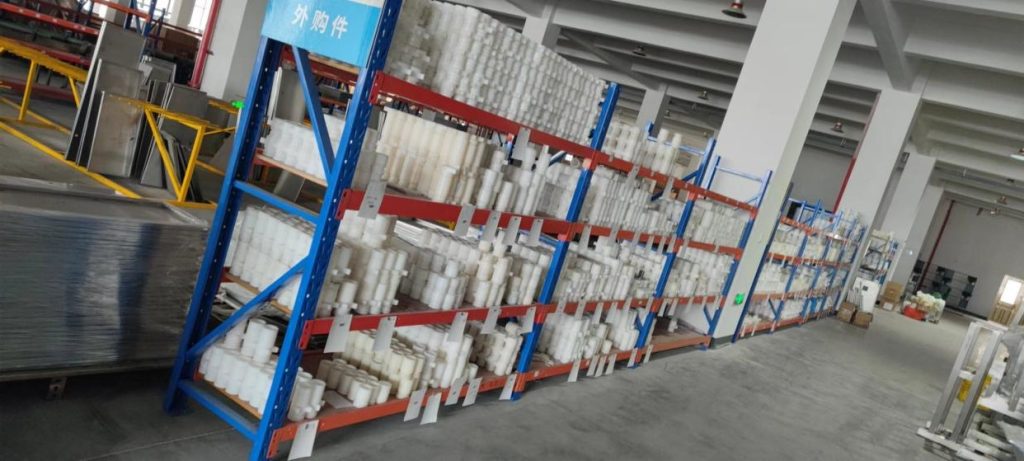 This side is the vacuum pump support, feeder turntable, packaging machine panel, etc.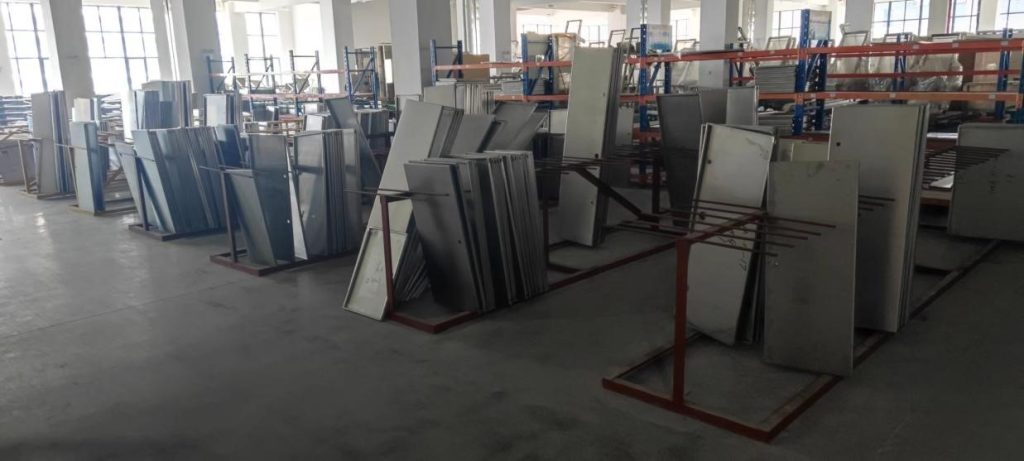 It is also very spacious, so it also piled up some equipment waiting for shipment.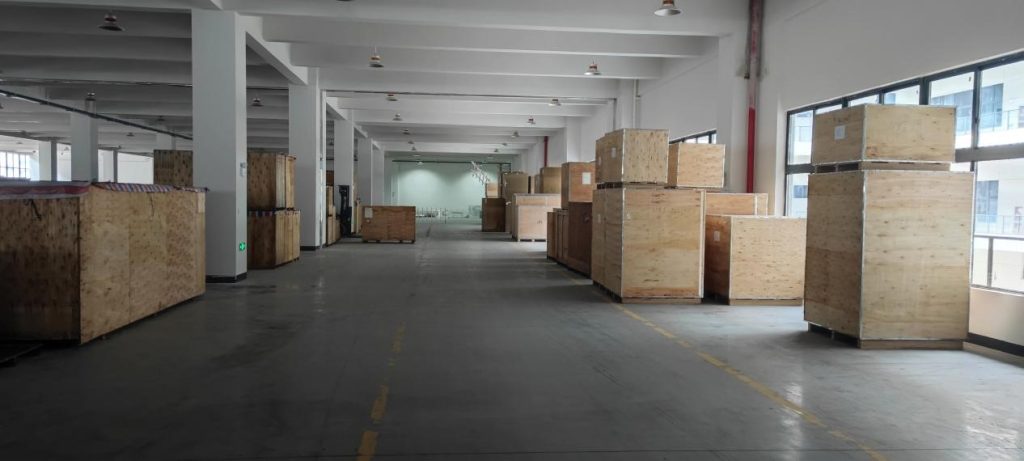 Go to the end of the road and then turn right, you will see our warehouse. Yes, the really warehouse, behind the fence isolation, hidden and rigorous, quiet and convenient. The whole warehouse has more than 10,000 square meters, with 5 elevators, one elevator can bearing 10 tons, two elevators can bearing 5 tons, the transport of outsourcing parts can be transported directly from the outside to the warehouse on the second floor, really very convenient.
There are 18 staff in our warehouse, including shelf staff, ingredient staff, ordering list personnel, packing personnel and two code staff, which are very complete, and the work process is also very orderly.
The warehouse has more than 600 shelves, we see the purchased parts shelves, this area is placed with parts that providing machining tools for the processing center. You see, a kind of drill bit and knife tools are filled with seven shelves. The kind of screw is filled with six shelves.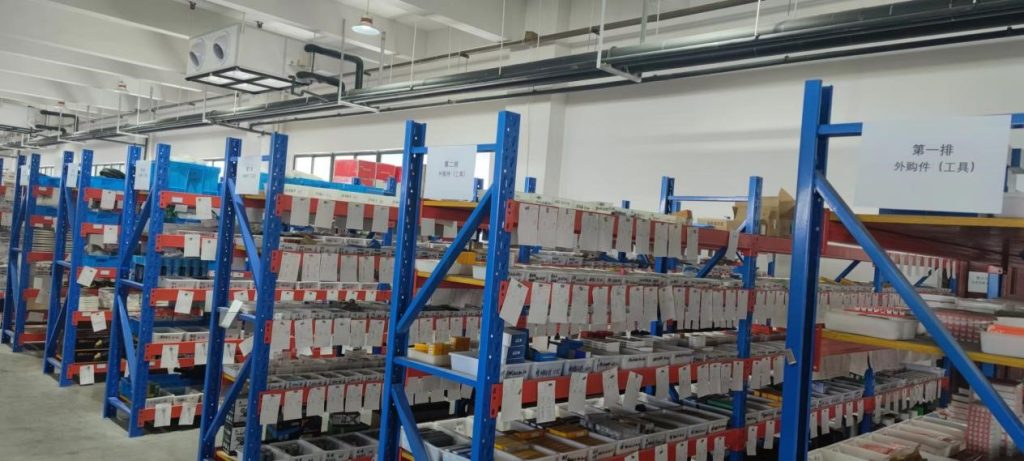 The shelves behind this row are all purchased accessories and electrical appliances, including Siemens, Omron and other international famous brands, as well as many other excellent domestic enterprises' electronic equipment.
Our outsourcing parts have more than seven thousand kinds, and our homemade parts in use has more than eight thousand kinds, you could see the middle big row shelves are full of our homemade parts, they are all our own processing production accessories, we can see from the label, they according to different equipment and machine models, all homemade parts are classified neat, so that we can get the required accessories in production.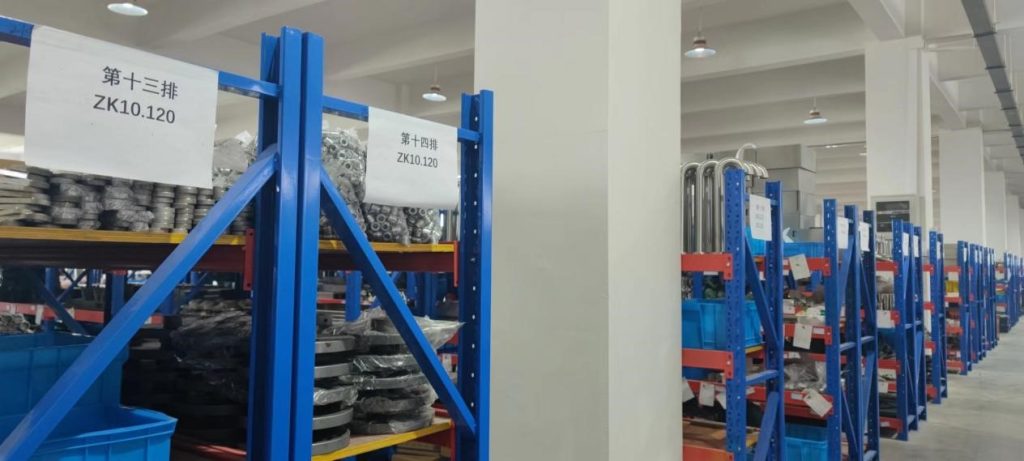 Here is our assembly parts shelf, which is the produced parts and then taken outside to assemble and then back to us for backup. These are the partners that we have worked with for many years, and we are very skilled.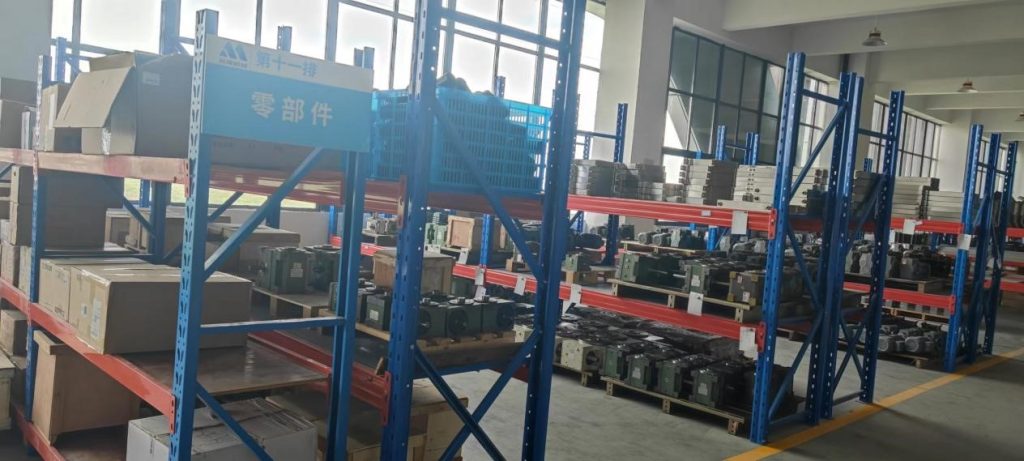 This is our shelf specially prepared for after-sales service, we promise our customers that don't worry after-sales service, so whenever there is any after-sales problems, we have prepared sufficient accessories for customers to replace in time.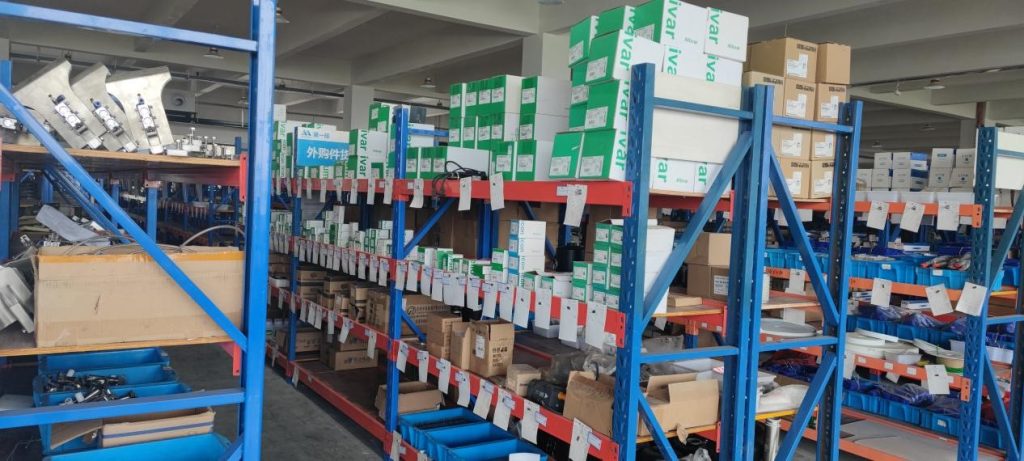 This area is filled with large accessories that can not be placed on the shelves, which can be found according to the remark. very convenient and very clear at a glance.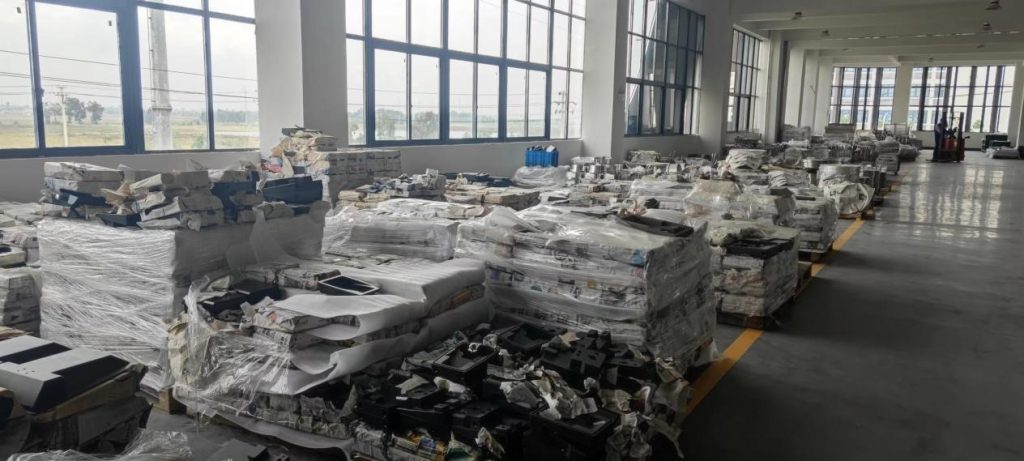 To sum up, you could see that our warehouse is managed in five areas, such as outsourcing tool shelves, outsourced parts shelves, after-sales parts shelves and large parts areas and take up a large area of self-made parts shelves. It is very orderly, the office environment is fresh and bright, and the employees are in good order.
Because we believe that excellent warehouse management can better assist production and solve customers' after-sales problems, which is an indispensable and crucial link for us. Do you agree?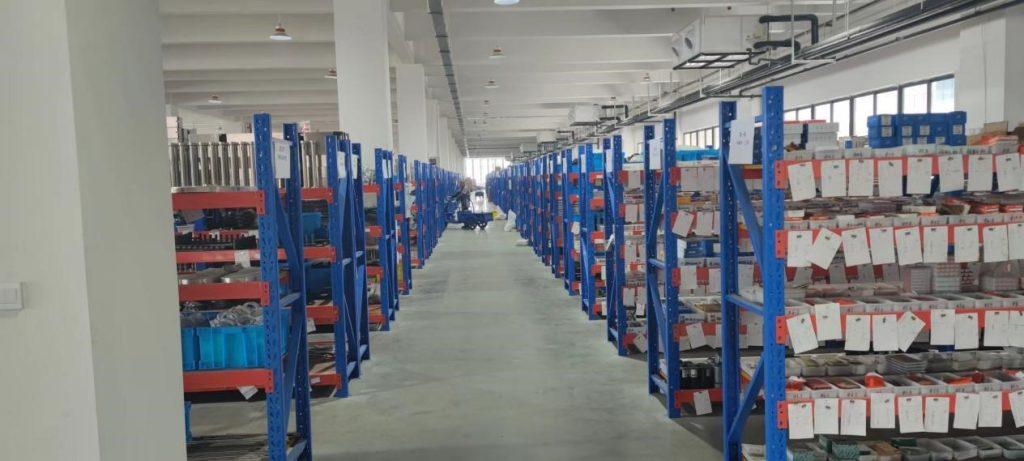 Third Floor: Assembly Workshop
Here is our third floor assembly workshop, where small parts are spliced and assembled into our equipment! What a wonderful process! Now let's come in and have a look.
The racks of the equipment are neatly arranged here. Do you see these holes in the racks? This should be the equipment that has just been assembled. Look at this side. The above devices have been installed almost.
After all the equipment is installed, the equipment can be sent to the commissioning group after a series of strict inspections by the factory!
Similarly, our assembly workshop also strictly implements 7s management, and we can see that the goods are placed in an orderly manner. A good working environment can bring people a comfortable mood, so that we can assemble better equipment!
Here we can see the details of our machine clearly and carefully.
Look, this is our integrated rack. Our materials are all solid, with 26mm main frame and 3mm stainless steel edge, which can make our equipment run more stably.
Then let's take a look at the cam, the core structure of our equipment. We use the inner cam.With the inner cam, it can run according to the predetermined curve even when the packaging speed is accelerated, which is more stable.
Moreover, our cams are guaranteed for life, which does not mean that our cams are easy to break. On the contrary, the quality of our cams is very strong, so we have the confidence to guarantee the lifetime warranty, because it will not break at all.
Inside the frame, we have carried out a comprehensive plastic spraying, which can effectively prevent water and rust and facilitate daily maintenance and cleaning. This is also a guarantee for the packaging of liquid materials! And it can extend the service life of the machine.
Let's take a look at these almost assembled machines. They will be transported to the debugging workshop on the 4th floor. But before transported it has to go through professional inspection.
Each of our machine is equipped with specialized assemblers, inspectors and supervisors. Only through the concerted efforts of the three parties can qualified machine be produced, which is also the rigorous attitude advocated by our factory.
Here, we can clearly see that the machine is neatly placed here, and the scale and quantity of the machines are also very large, so you can rest assured of the strength of our factory.
Moreover, our workers here are very loyal and have worked for a long time. They are experienced and rigorous, and have contributed an indispensable part to the machine.
Fourth Floor: Debugging Workshop
The fourth floor is our debugging Area, which for adjusting machine after the assembly and connect to filling system according to customer's need.
Here is a wide space for containing more than 300 sets machines. Our hot sale machines are normal rotary packing machine and vacuum packing machine. As you can see, every machine has its own folder. It records the model number, serial number, customization details and the name of Assembly person and acceptance person.
If any problem with machine, we can check corresponding accessories and person immediately.
We can see a transparent room with many shelves. This is our material room, which can store the materials and sample bags sent by customers. There is also a Refrigerator in it. Some materials are filled after freezing or at low temperature. In order to make the material closer to the state of production, we will freeze or keep it fresh.
Next to this room are the offices of our production managers and programmers. On the right side are all our machines. As you can see, most of them are vacuum machines. In China, vacuum food is very popular, with fresh taste and convenient to take, such as chicken legs, eggs, duck tongue, fish balls, dried tofu, pickles and so on. Of course, for different materials, our vacuum machine is equipped with different filling system, such as egg feeder, dried bean feeder, annular feeder, and common scales.
Vacuum packing machine:
This is our newest and exclusive design vacuum model MRZK-200P. It is suitable for some products that need to be flattened, such as melon seeds, almonds, peanuts, etc. The effect of flattening is much more beautiful than stacking on the bag bottom. The actual speed depends on the specific material and the speed of the weighing and filling system.
It has 10 vacuum chambers. During the vacuuming process, the vacuum chamber will be horizontal and simulating manual flattening.
Now, let's do an experiment. Put a glass of water on the machine.
You can see that the water in the cup doesn't shake obviously, which shows that our machine runs quite stably. Why is our machine so stable? Our machine use high quality materials, 26mm main frame and 3mm stainless steel Edging.
As for our processing technology of integrated cam, most of suppliers used the technology of two-half splicing, which has gaps. Our integrated CAM runs not only fast but also stable! And we promise the lifetime warranty of the cam.
As just introduced, 90% of the parts of our equipment are produced by our own processing center, with guaranteed quality, which is also the basis for th stable operation of our machine. Stability is above all else, which is what we pursue.
Besides the vacuum packing machine, we also have another hot sale model: rotary packing machine. It can combine with different filling system for different products, solid, granule, liquid, powder . And this machine can pack various of bag types, such as zipper pouch, side-spout pouch, side-seal pouch, stand-up pouch and some special shape pouch.
This is solid and granule packing line. The weihing system is scale. Generally, it combine with Z-type conveyor or inclined conveyor to lift product on the scale. It can pack candy, peanut, coffee bean, nuts, cooked food, pickles, puffed food, grain, seed, condiment, granulated sugar, chicken essence etc.
This is powder packing line, connect the auger filler and screw conveyor, which is suitable for Milk powder, Coffee powder, Food additives, Condiments, Tapioca powder, Coconut powder, Pesticide powder.
And this packing line is suitable for liquid and sauce. Like detergent, fruit juice, miller wine, soy sauce, vinegar, chilli sauce, tomato sauce, jam etc.
Some visitors ask about printing production date and expiration date. Sure, machine can do printing. There are ribbon printer, TTO, ink jet printer, laser printer, customers can choose according to customer's needs. We usually put the coding on the second station. Before opening bag and filling, the bag is in a flat state, and the coding effect is better.
As you see, there is a tray. The countertop of the machine is washable. You can drain the sewage through this sink. For liquid products, the machine is equipped with a tray to prevent the liquid from contaminating the countertop.
I believe most of customer must concern about the installation problem during this special period. If you buy the machine, how to install it?
Previously, we could arrange for engineers to go abroad to debug the equipment at the customer's factory. Now due to the covid-19, it is very difficult to go abroad. We can only provide videos for customers to guide installation and answer questions online. It is better for customers to send the products and bags to us to test the machine, which is more accurate. When the equipment arrives at the customer's factory, it only needs a simple debugging after installation.
The fifth floor includes company's meeting room, employee sports ground and new equipment R&D room.
The sixth floor is the office of sales personnel, financial personnel and administrative personnel. And parking area.
The seventh floor is our technology department, which is responsible for some drawings and parts design.
The roof is our chairman's office.
We sincerely invite you to visit our new factory once you have opportunity to come China. And if you have any interest in our packing machine, just feel free to contact us for more machine details.