Modern Packing Solutions
Given the rising need for packaged goods, purchasing a packaging machine is wise. It can be simple to become lost in the jargon and diversity of alternatives when so many food packaging options are available on the market.
To help packaging businesses, ECHO Machinery has launched "The Automatic Tray Sealing Machine," which is the Future of the Food Industries and is the most conventional, rapid, and efficient packing method.
​​ECHO machinery's R&D team​​​​ bid a fond farewell to the outdated semi-automatic tray sealing techniques and enthusiastically welcomed the "Automatic Tray Sealing Machine", which has unmatched advantages over the previous approach. It has replaced the manual process with an automatic machine which has increased productivity and decreased threats to material cleanliness and safety. While reducing the need for user intervention, this machine also features the best rollers for moving the plates through it. It is the best packaging option for various applications, including industrial fasteners, fresh produce, meat, frozen dinners, and ready-to-eat meals. 
In 2021, the global packaging machinery market reached $44.17 billion. The market size is expected to reach $59.24 billion in 2028, rising at a market growth of 5.9% CAGR during the forecast period. The demand for packaged and handy food items has substantially expanded due to consumer lifestyle changes, and people's hectic schedules encourage them to adopt ready-to-go food.
Consumers and retailers demand more eco-friendly package designs; thus, machine manufacturers are trying to collaborate closely with suppliers to test new materials and make appropriate machine modifications. Moreover, the demand for faster and more flexible devices has increased with the rapid developments in retail packaging formats. ECHO machinery accompanies manufacturers, including introducing innovative and new products to meet the demand for highly advanced and flexible packaging machines to cater to different food segments.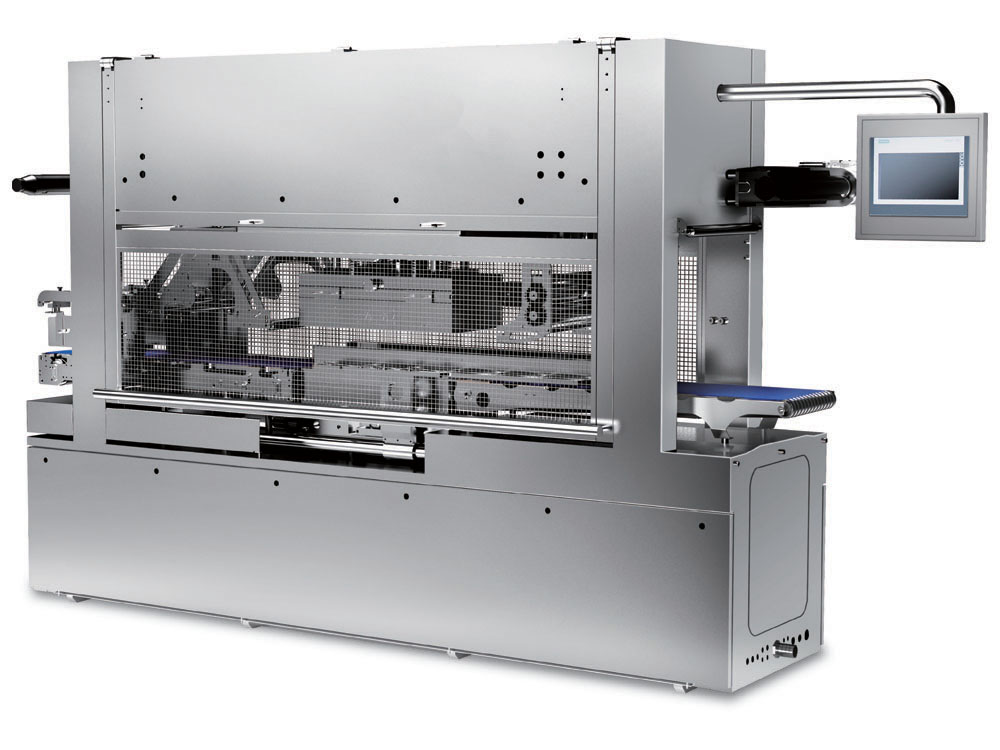 Unique parameters of Automatic Tray Sealing Machine
The manufacturing line in the packaging business has embraced automation. Additionally, Automatic Tray Sealing Machinery offers all the unique attributes the packaging industry needs, including wrapping, case assembly, tray handling, weighing, and food arrangement. It works with various tray materials, including foam, metal, and paper trays. It provides customers access to an entire intelligent system with simple parameter switching and the production line access. Furthermore, the mold's size may be changed as needed, and the pressure and time sealing modes can be tailored to give customers new surprises and a better overall experience.
ECHO Machinery Co. specializes in top loading and product collation technology. It can create a seamless integration between machines, goods, and packing materials, providing its customers with the best-fit food packers and in-one" solutions.
However, the three following elements sum up the key characteristics of this statement that makes our packing machine so exceptional:
Its speed: Packaging automation offers numerous automation machines, however, this device can seal up to 200 packs per minute, giving its user swift and effective product packing. This machine's distinctive feature can assist many of its users in saving time and delivering a large number of parcels each day.
Its mold size: The automatic Tray Sealing machine has versatility in handling different mold sizes of 620* 380mm, but the great news is that it can also customize this size. The device has an exceptional scope of 3950mm in length, 750mm in width, and 2100mm in height. This extraordinary feature enables users to adjust the tray sealing machine that seals meals of any size and shape. Customers can also purchase each mold separately to match the trays they want to fill, which makes the packing products look more attractive and appealing.
Its capacity: The Automatic Tray Sealing machine is easy to use and set up and is made for medium-large volume production levels. This machine's capacity is up to what the most recent food industry need calls for, which is up to 12 Cycle Per Minute. Usually, the product's state and tray size affect capacity because of how versatile this packing machine is and how cost-effective and quality-focused it is. It can consistently deliver essential things without lowering its expectations regarding quantity.
The ECHO team has included all the points mentioned above in our highly automatic tray sealing machine. All packaging machines are vital and have a long shelf life with the highest caliber since they adhere to all specifications and only use the best components, enhancing packaging effectiveness. And lastly, to make it more user-friendly, each piece of our packing machine is versatile and adaptable, custom-made for each customer's products and specifications.
Sealing Process
A practical tray sealing machine must have unique qualities in various areas. Nowadays, a lot of tray sealing machines frequently perform with no stability. Users find it difficult to use these products with high satisfaction levels due to their stability flaws. However, our Automatic Tray Sealing Machine offers its customers the best cost-effectiveness, fair prices, and exceptional quality packing products. It is safe, dependable, and pollution-free since the driving mechanism of the tray filling and sealing machine is partially contained underneath the platform. It is simple to see, use, and maintain since the filling and sealing component is positioned above the platform in a partially enclosed, non-static frame. A camshaft, which is faster and more precise, drives the turntable of the tray filling and sealing machine.
Additionally, the equipment operates efficiently and conveniently. Due to the machine's high stability, product-filled plates smoothly enter the in-feed roller, where they are spaced and indexed. A transfer beam of the machine's excellent quality evenly transfers the packing product within the tooling. Finally, the sealing in the packing device, which ensures the cleanliness and protection of packing food, also lowers the trays back down when the seal dwell period has passed, and the transfer on the following cycle ejects to the machine outfeed. To satisfy customer needs, ECHO manufactures various automatic packaging systems. All packaging types of machinery are always customized to meet the needs of each client, making us the top manufacturers and suppliers in this sector.
Advantage
Automatic tray sealing packaged food will have superior packaging effects and improved packaging quality. Each packing product in ECHO machinery is unique and meets all the demands of the rapidly developing market packing industry. Automatic Tray Sealing Machine offers its customers 100% satisfactory results along with a mechanically solid, airtight seal that reduces the possibility of contamination and prevents dirt and humidity from entering the container, which enhances food safety.
As well as decreasing manufacturing costs, it enhances packing line productivity and cleanliness standards, freeing up all hands and boosting user revenue. That's not all; there has been considerable interest in the reform of the food packaging machinery. Its eco-friendly flexible packaging has gained a lot of attention along with its impeccable packaged food quality can help many businesses grow and satisfy clients within an extended period.