Using high-quality liquid packaging comes with many benefits. It keeps the liquid material intact and prevents oxygen in the air from reacting with chemicals present in liquid materials. Different types of liquid packaging are used depending upon the location of storage and types of liquid.
If you are running a store and need some quick liquid filling and packaging sources, we have the best solutions. Our machinery works efficiently considering the fluidity and 'foamability' of the liquid and keeps your product safe using the rigid packing material.
In this article, I'll walk you through all the details of various benefits you will get from liquid packaging machines and what factors you should consider while packing a liquid.
Factors to Consider During Liquid Packaging
If you are a manufacturer who needs to pack various types of liquids such as milk, water, gel, creams, sauces, etc., you can easily do it using some top-notch liquid packaging machine. But before using any machinery to pack or seal liquids, make sure you are well aware of the viscosity of the fluid and its optimum temperature. Don't know about these terms? Continue reading the below-discussed terms:
Fluidity and Viscosity
Fluidity refers to the state of flow of liquid and how easily a liquid can flow. In contrast, viscosity is known as a fluid's resistance to flow. A low viscosity liquid has high fluidity, so less power is needed to pump it into a bag or bottle.
However, high viscosity and low fluidity liquid need extra power or energy to get pumped into various packaging materials. You should consider the product's viscosity because the whole packaging process slows down if you try to fill a high viscosity liquid through an ordinary machine.
Filling Temperature
The higher the temperature, the more the liquid is fluid. As the fluid gets heated, its viscosity decreases which results in a high flow rate. Ensure you are using the correct temperature while it passes through the product filter to assure safe and quality packaging.
Particulates' Size
In most cases, liquid material contains different particulates that may settle in the bottom and disturbs the whole packaging process. Try to accurately know the size of those particulates to use the right kind of product filter and avoid any possible mishap.
Different Liquid Packaging Machines
The purpose of using a liquid packaging machine is to carefully pack liquids such as gel, sauces, honey, juices, etc., into bottles or bags to avoid spillage and leakage. Filling machines has made the life of manufacturers a lot more effortless by saving the cost and workload of manual labor.
There are many liquid packaging types of machinery available that work on different principles according to the fluidity and viscosity of the liquid. The gravity principle is best for fluids with high fluidity, while piston one is for low fluidity liquids as it puts pressure on the fluid and forcefully passes it through the filter and into the bag or bottle.
Our machines are perfect and efficient in liquid packaging, and we provide you with the best solutions to meet your needs. Also, we keenly observe whether the packaging needs glass glue or a lower feed position with the servo.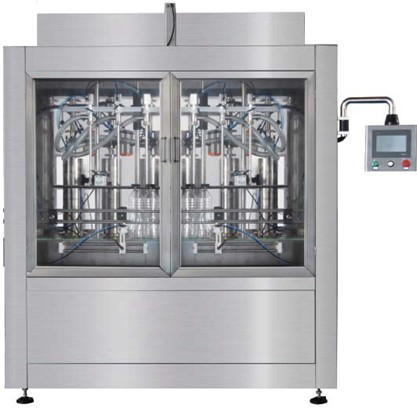 We have this excellent working machine that focuses explicitly on the automatic filling or packaging of liquids with high viscosity. This machine is best for high-level industries like food or pharmaceutical. It enhances the users' experience by giving the option of selecting from 2 to 12 nozzles, also known as filling heads. You can easily control the frequency and filling volume by merely touching the screen. The nozzle is placed at the bottom of the filling bottle, and it rises as the filling proceeds. This machine has the capacity of filling 60 bottles per minute, completely taking over manual labor.
What makes this machine best is the classy design and high-quality material used in it. The stainless steel body prevents corrosion, and the electrical parts are controlled and managed by a touch screen. There is also a servo motor that controls the overall filling process with precision, and you don't have to maintain the machine manually.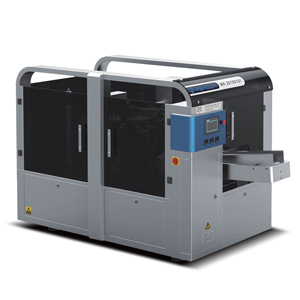 This fantastic premade pouch packing or automatic premade pouch rotary filling and sealing machine is quickly taking over the packaging market. Why are premade pouches the first choice for manufacturers and consumers? Because they are easy to carry and have flexible designs.
This machine has versatile features that include a rotary 8 stations and performs bag dispensing, opening, and closing functions. Almost 80 bags get filled within one minute; that is much more than expected. The mechanical parts are fully secured and safe to ensure a better user experience.
You will also get a touch screen option to quickly operate the machine and set it according to your needs. Everything in this machine functions automatically, from loading, filling, and sealing to finishing your projects. Using this machine saves you from manual labor and decreases overall production costs. We also deal with providing our customers with bag customization services over a specific range.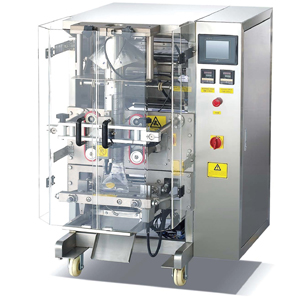 As technology is getting advanced, the filling machines are also updated with new and fast working features. This fantastic fluid filling machine works on filling, weighing, bagging, and sealing the overall package. You will also get to know about the date of printing and total output through it.
All these things are done automatically in this machine, and you don't have to work manually. Servo motor increases the overall liquid flow. The presence of a PLC computer enables you to change the machine's functions without stopping it. All the settings are changed using the touch screen. And the unique feature of this device is the automatic and independent temperature control system. It carefully provides the required temperature for certain liquids for clean packaging.
Conclusion:
You may be reluctant to invest in auto liquid filling machines because of high-cost, but consider the benefits you will get. Using liquid filling machines saves your time and labor cost. It's only a one-time investment and a lifelong privilege.
We are providing high-quality liquid packaging machines at minimum cost. You can select any of the machines mentioned above to improve and speed up your overall packaging process.